This month's newsletter:
---
Contents
Good afternoon! It's 54 degrees at CoworkBuffalo right now. It's still sunny enough to bike downtown, to walk over to Sue's for a cookie, and to keep polo shirts a viable thing for maybe the rest of the week. Let's all enjoy this, before the time of sidewalk salt and red faces sets in.
As you soak up these last few rays, we'd like to tell you about a few things going on at CoworkBuffalo.
Want to get up, get downtown, drink some handmade coffee, and get that perfect blend of sociability and productivity? This Friday (Oct. 31, a.k.a. Halloween), you can do that for free at our spot. It's been a while, but we're bringing back Free Friday. It's
Here's how it works: 1. You show up, and we say hi to you. 2. You grab a seat and get some work done. 3. We don't charge you anything.
Tell your friends, mark your calendar, see if your boss can do without you at arm's length on Friday. And by all means, let people know by Facebook, Twitter, or whatever means you share stuff online. There might even be Halloween candy. And we might get this going on a regular basis again. We shall see!
Our 3 phone rooms were, until recently, sound dampening, but not quite sound proof. With your help, we've built up the funds and resolve to fix that.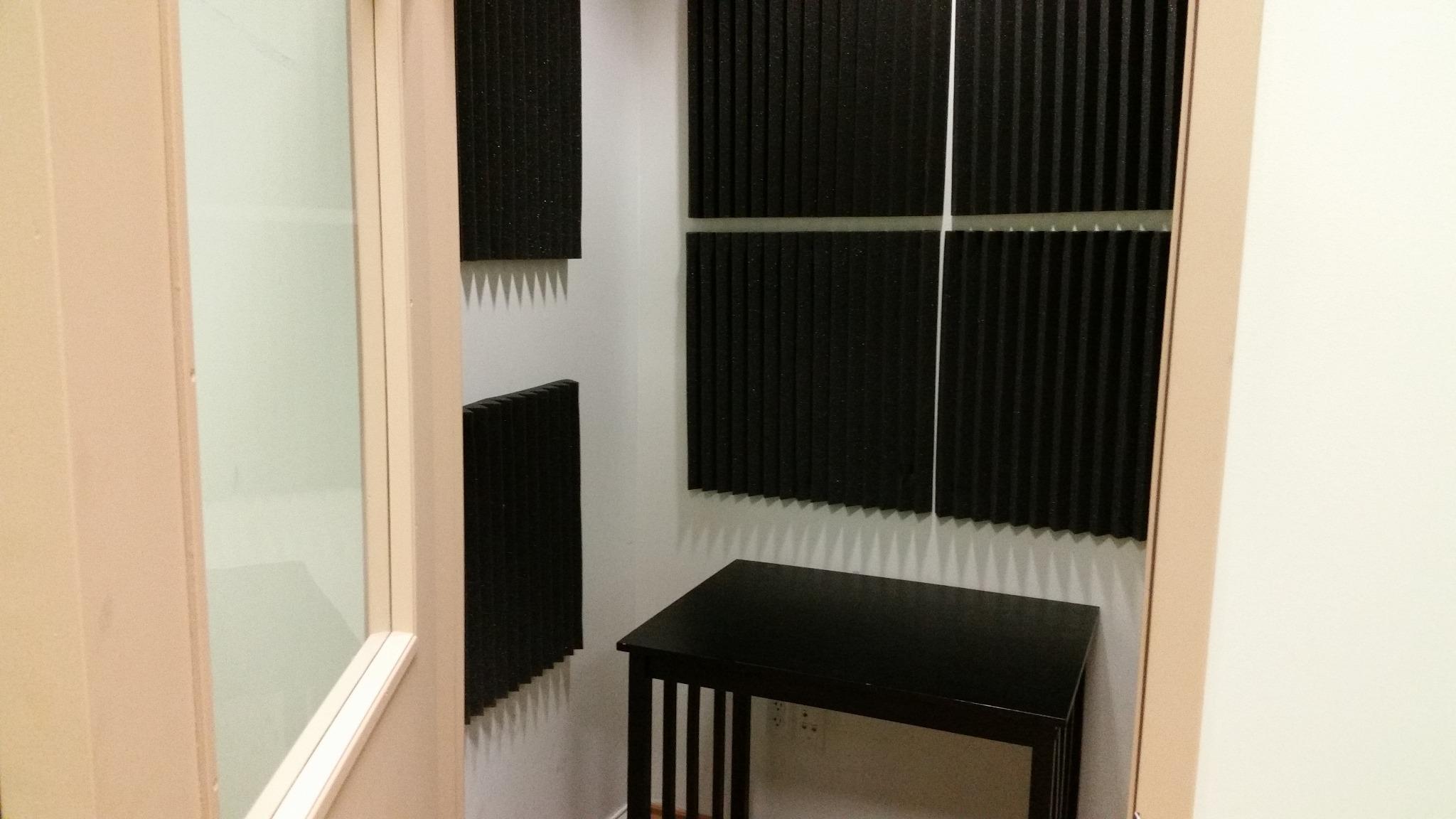 We've tested the sound with our left-most booth, adding studio foam, stripping around the door and door draft, and blowing insulation in the walls. After a few tests, we'll be doing the same to the other booths. We hope this makes CoworkBuffalo a better place to take a call, a conference, or … record a podcast?
We just added our second two-person team to the member roster at CoworkBuffalo. Friendly reminder: if you get someone else from your firm, startup, or some kind of connected entity to join up with you, you'll both get a discount (starting at 15% for two people). As members, you'll also get access to the conference table, TV or projector, and negotiable after-hours meeting time.
Restoring traffic to Main Street on our block: still going. The last news story had the testing happening in "mid-October," and we've seen a few cars roll down since. When the barriers are finally removed, our block gets divided bike lanes, easier car drop-offs, and even a few 2-hour parking spaces within a few yards of us.

We're excited to be brewing Buffalo's own Public Espresso in our space. Two things to note: Public is working on opening its own coffee bar on Grant Street (near Potomac). And we hear from our bean-obsessed friends that our members may be able to get their own Public beans, certain days of the week, at a certain nearby location. Ahem. Details to follow.

You might be hearing from us again soon about board games. Fun, "Euro," "German," non-Milton-Bradley games that we're scheming to make easier to play, recommend, and buy.

Questions? Comments on how we could accommodate your workflow better? We're listening at work@coworkbuffalo.com.
~ The CoworkBuffalo Nerds